Sony FE 70-200mm F4 G OSS Lensa
Sony FE 70-200mm F4 G OSS Lensa full-frame E – mount dengan kisaran zoom jarak dekat sampai menengah dengan panjang fokus setara 105-300mm pada APS-C.
The Sony FE 70-200mm f/4.0 G OSS Lens is a full-frame E-mount lens with a short to medium telephoto zoom range with an equivalent focal length of 105-300mm on APS-C cameras. It features a constant aperture of f/4.0 for good low-light capabilities at any focal length and smooth out-of-focus elements. This makes it useful for portraits and sports photography where you want to separate the subject from the background.
For optical quality, the lens features numerous specialized elements, including Super ED and Advanced aspherical elements. These elements reduce the impact of aberrations and distortion for high resolution imaging. The lens is also benefited by the use of Nano AR coatings that reduce the effects of flaring. It even has dust- and moisture-resistant construction for use in less than ideal weather conditions.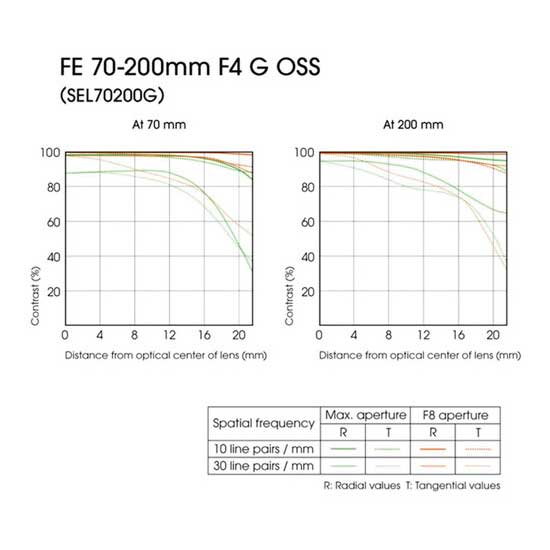 During automatic shooting, the 70-200mm lens uses a Dual Linear Motor Autofocus System to achieve quick, precise focus and has focus hold and limiter options for improving performance in certain situations. There is also Optical SteadyShot image stabilization for maintaining sharpness at long focal lengths or long shutter speeds. Additionally, there is a removable tripod collar and a lens hood.
Focus hold button and focus range limiter allow you to hold focus by holding a button and adjust the range that the lens will focus between, limiting the amount of hunting the lens will do
Panning mode adjusts the lens to account for horizontal movement while shooting
Aspherical lenses reduce distortion and spherical aberrations that occur in large aperture lenses
Super Nano AR coating limits glare and flaring, producing an image with good contrast and sharpness
Low-dispersion glass elements, or ED and Super ED, reduces chromatic aberrations, producing a high contrast image with minimal fringing
Rounded 9-blade aperture produces pleasing out-of-focus areas similar to when the lens is wide open even when closed down 2 stops
Aperture range from f/4 to f/22
Uses screw-on filters 72mm in diameter
Minimum focus distance of 39.3″ with a maximum magnification of 0.13x
FAQ
Q: Lensa untuk DSLR atau Mirrorless?
A: Untuk Mirrorless
Q: Apakah sudah dapat lenshood?
A: Sudah dapat lens hood
Q: Berapa diameter filter lensanya?
A: 72mm
Q: Garansi berapa tahun?
A: Garansi resmi 1 tahun
Q: Apakah sudah ada IS?
A: Sudah ada IS
Q: Lensa untuk APS-C atau Full-frame?
A: Untuk Full-frame
Q: Apakah bisa menghasilkan foto yang bokeh?
A: Bisa menghasilkan foto yang bokeh, cocok untuk foto jarak jauh
Spesifikasi
Performance
Focal Length
70 – 200mm
Comparable APS-C Focal Length: 105 – 300 mm
Aperture
Maximum: f/4
Minimum: f/22
Camera Mount Type
Sony E (Full-Frame)
Format Compatibility
35mm Film / Full-Frame Digital Sensor
Minimum Focus Distance
39.37″ (1 m)
Magnification
0.13x
Diaphragm Blades
9, Rounded
Features
Image Stabilization
Yes
Autofocus
Yes
Tripod Collar
Yes
Physical
Filter Thread
72 mm
Dimensions (DxL)
Approx. 3.15 x 6.89″ (80 x 175 mm)
Weight
29.63 oz (840 g)
Video Review
[vc_row][vc_column width="1/1″][vc_toggle title="Tentang SONY" open="false"]
Tentang Sony
Awal yang sederhana Sony mulai di Jepang pada tahun 1946 dari tekad belaka dan kerja keras dari dua orang pemuda yang cerdas dan giat. Masaru Ibuka dan Akio Morita bergabung dalam membuat impian mereka dari perusahaan global yang sukses menjadi kenyataan. Sony, misi kami adalah untuk menjadi perusahaan yang menginspirasi dan memenuhi rasa ingin tahu Anda. Pelajari lebih lanjut tentang bagaimana kita melakukan ini, visi kami dan apa yang kita lakukan di bagian ini.
Company Name
Sony Corporation
Major Products
Televisions
LCD televisions
Digital imaging
Interchangeable single-lens cameras, compact digital cameras, video cameras
Audio / Video
Home audio, Blu-ray Disc™ players and recorders, memory-based portable audio devices
Semiconductors
Image sensors and other semiconductors
Electronic components
Batteries, recording media, data recording systems
Professional solutions
Broadcast and professional-use equipment
Medical
Medical-related equipment
Locations of Major Offices and Research Centers (in Japan)
[/vc_toggle][/vc_column][/vc_row]