Sony A7R Kamera Mirrorless Body Only
Sony A7R Kamera Mirrorless Body Only adalah kamera mirrorless dari Sony yang di rancang untuk para fotografer professional terutama untuk foto landscape, foto untuk iklan, foto produk, foto untuk fashion, dan lainnya. Sony A7R hadir dengan memadukan full-frame Exmor CMOS sensor kedalam E-Mount body yang setara dengan kamera DSLR profesional seperti Nikon D810, Canon 5D dan DSLR Profesional lainnya sehingga Sony A7R mampu menghasilkan foto lebih tajam, kaya warna dan juga lebih mendetail.
Masih bingung dengan Produk ini?
  Kamera Mirrorless Sony A7R Body Only ini dapat aksesoris apa saja?
  Belum termasuk aksesoris. Paket penjualannya hanya dapat unit kamera, baterai, charger, dan neck strap.
  Garansi Kamera Sony A7R nya gimana? Dan berapa lama garansinya?
  Kamera Mirrorless Sony A7R ini bergaransi Resmi (servis) Sony Indonesia, selama 1 tahun.
  Apa kelebihan kamera Sony A7R Body Only?
  Sensor 36MP full frame, viewfinder, wifi.
  Apakah layar touchscreen?
  Layar belum touchscreen.
  Apakah bisa dipasang microphone external?
  Bisa, ada port untuk memasang microphone external.
  Lensa Kamera Sony A7R bisa dilepas diganti gak?
  Iya, lensa bisa dilepas dari body kamera atau lensa bisa diganti dengan lensa sony e-mount.
  Apakah sudah termasuk lensa kit atau hanya body only?
  Belum termasuk lensa kit, hanya body saja.
Fitur Utama Sony A7R Kamera Mirrorless Body Only
36.4MP Full Frame Exmor CMOS Sensor
No Optical Low-Pass Filter
Gapless On-Chip Lens Design
BIONZ X Image Processor
Direct Compatibility with E-mount Lenses
3.0″ Tiltable TFT LCD with 1,229K-Dots
2.4M-Dot OLED Electronic Viewfinder
Full 1080/60p Video with Remote Capture
Built-In Wi-Fi and NFC
Multi-Interface Shoe
Garansi 1 Tahun S0ny Indonesia
The Highest Resolution In History
The 36.4-megapixel* 35mm full-frame Exmor CMOS sensor with no optical low-pass filter delivers unbelievably high resolution in combination with high sensitivity and extremely low noise. Sony A7R brings out the full potential of the sensor and lens, thus achieving an enhanced sense of clarity with supremely realistic details to the very edges of your photos. An AR coating also reduces flare and ghosting.
Extraordinarily Realistic Detail
The high-speed BIONZ X image processing engine faithfully reproduces textures and details in real time, as seen by the naked eye, via extra high-speed processing capabilities. Together with front-end LSI (large scale integration) that accelerates processing in the earliest stages, it enables more natural details, more realistic images, richer tonal gradations and lower noise whether you shoot still images or movies.
Swift And Intuitive Controls
Controls are refined for intuitive operation and immediate adjustment of parameters while viewing scenes through the viewfinder. Shaped and placed for easy access, they contribute to a remarkably comfortable shooting experience. Despite compact dimensions, the 7 features front and rear dials for intuitive setting of exposure, a control wheel for setting ISO, and an exposure compensation dial.
Real-time And Optimal Focusing At All Times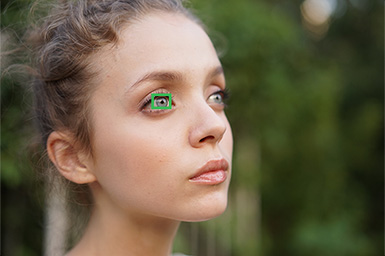 Fast Intelligent AF provides extremely fast AF performance despite the employment of a full-frame sensor. In fact, it achieves top-level AF speed in the full-frame category through the support of various advances including lightning-fast BIONZ X, high-speed full-frame image sensor output, and a Spatial Object Detection AF algorithm. Eye AF is useful when capturing a subject partially turned away from the camera with a shallow depth of field. The face will be sharply focused thanks to extremely accurate eye detection that can prioritise a single pupil.
Faithful, High-resolution OLED Display
View every scene clearly in the bright and accurate XGA OLED Tru-Finder, which features OLED improvements and the same 3-lens optical system used in the flagship α99 despite the compact body. The viewfinder faithfully displays what will appear in your recording, including the effects of your camera settings, so you can accurately monitor the results. You'll enjoy rich tonal gradations and 3 times the contrast of the α99. High-end features like 100% frame coverage and a wide viewing angle are also provided.
Liberated Full-frame Moviemaking
The unprecedented combination of mobility and functionality unleashes exciting moviemaking possibilities. By taking full advantage of the 35mm full-frame sensor, BIONZ X image processing engine, audio production features and flexible lens interchangeability, you can create movies of breathtaking visual and sound quality with exquisite background blur, remarkably clear details, and the sensitivity to bring dark scenes to vibrant life. Features like Picture Effect, clean HDMI output, P/A/S/M modes and your choice of 60p or 24p recording further expand your creative options.
Ulasan video Kamera Sony A7R Kamera