Olympus OM-D E-M1 with 12-40mm f2,8 PRO
The Olympus OM-D E-M1 Mirrorless Micro Four Thirds Digital Camera is a compact, ergonomically designed camera featuring a 16.3 megapixel Live MOS sensor and TruePic VII image processor to produce high-resolution still imagery and full HD 1080p video with notable low-light quality and high-speed performance. The combination of these two technologies enables a high sensitivity range from ISO 100-25600 and also contributes to a top 1/8000 sec. shutter speed and continuous shooting up to 10 fps. The sensor also lends itself to an enhanced FAST autofocus system that utilizes dual contrast- and on-chip phase-detection focusing methods to quickly and accurately acquire focus with selectable focus areas for even greater precision.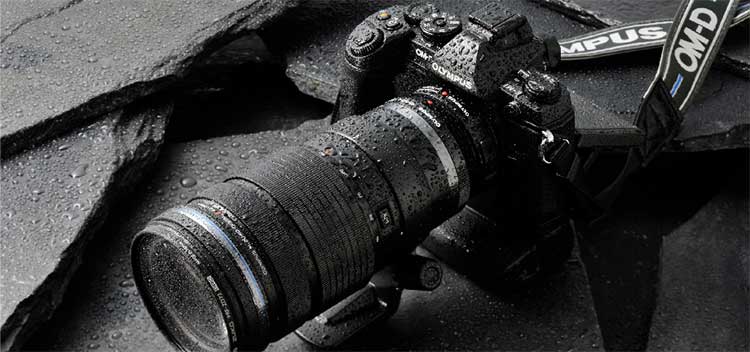 Also benefitting image sharpness is in-body 5-axis image stabilization that compensates for vertical, horizontal, and rolling camera shake. IS-Auto mode can also be employed, which intelligently detect both vertical and horizontal panning and disengages image stabilization along the detected axes to provide stabilization when photographing moving subjects.
Both a high-resolution electronic viewfinder and tilting touchscreen monitor are available for live view monitoring, image playback, and menu navigation. The interactive EVF features a 2,360k-dot resolution and 1.48x magnification for comfortable eye-level viewing with the ability to preview image effects in real-time. Alternatively, the 3.0″ 1,037k-dot tilting touchscreen LCD monitor can tilt upward 80° or downward 50° to suit working from high and low angles and its touchscreen design provides an intuitive means for controlling settings and navigating through the menu system. Both of these viewing mechanisms are housed within the ruggedly-designed dust-, splash-, and freezeproof magnesium alloy body. A large grip is integrated into the construction to provide a comfortable means for handling the camera and also facilitates more efficient control over a wide range of camera settings. Additionally, the incorporation of an X-sync socket, HDMI port, external microphone jack, and hot shoe also add to the E-M1's overall functionality.
For refined off-board control and image sharing, built-in wireless connectivity is available and, when paired with the Olympus O.I. Share app for iOS and Android mobile devices, remote sharing and control over the camera is possible. QR Code Connect provides a simple, seamless way of linking mobile devices to the camera and the option of utilizing a smartphone to embed locational data into the image files for geotagging is also supported.
Masih bingung dengan produk ini?
beli kamera ini dapat apa saja?
kamera, lensa, battery, charger, strap
apakah sudah termasuk tas atau memory?
masih belum termasuk tas atau memory
garansi berapa tahun?
garansi 1 tahun
apa kelebihan dari kamera ini?
16.3MP Live MOS Sensor, FAST Dual Phase- & Contrast-Detection AF
ada berapa pilihan warna kamera?
Black
apakah lensanya bisa diganti?
lensa bisa diganti
apakah sudah dapat lensa?
sudah dapat lensa kit 12-40mm
berapa diameter filter lensanya?
untuk kit 12-40mm PRO ukurannya 62mm
apakah bisa dipasang mic external?
sudah bisa dipasang mic external
apakah layarnya bisa di flip?
masih belum bisa
apakah hasil dari kamera bisa langsung dikirim ke HP?
bisa melalui Wifi
Ulasan Video
Video Review
Tentang OLYMPUS
​​
Olympus juga merupakan pemimpin dunia dalam penelitian dan mikroskop klinis. Kami menciptakan kamera praktis pertama yang memungkinkan dokter melihat ke dalam tubuh manusia, dan kami terus memperkenalkan teknologi pencitraan yang mengubah hidup bagi para profesional kesehatan. Kami bangga pada memperkaya kehidupan masyarakat, di seluruh dunia, setiap hari.
Olympus, fokus pada peningkatan kehidupan masyarakat setiap hari. Kami melakukan ini melalui inovasi. Sebagai pemimpin teknologi presisi, kami merancang dan memberikan solusi inovatif dalam bidang bisnis inti kami : Produk Medis dan Bedah, Life Science Imaging Systems, Industri Pengukuran dan Pencitraan Instrumen dan Kamera dan Audio Produk.
Produk kami digunakan untuk menangkap gambar dari dunia kita dari mikroskopis untuk panorama. Mereka berperan dalam memajukan penelitian ilmiah, perjalanan di dalam tubuh manusia untuk membantu mendiagnosa, mengobati dan mencegah penyakit, dan mendokumentasikan kehidupan Anda dengan kebebasan artistik.
Kebanyakan dari semua, kita didedikasikan untuk membantu orang menikmati kontinum kehidupan. Sejak 1919, Olympus telah mengembangkan solusi teknologi inovatif yang berkontribusi positif kepada masyarakat. Komitmen kami kepada pelanggan dan tanggung jawab sosial kami adalah landasan segala sesuatu yang kita lakukan.