Canon EOS M10 Kit II EF-M15-45mm & EF-M22mm White
Canon EOS M10 Kit II EF-M15-45mm & EF-M22mm White di lengkapi dengan body ramping, juga fitur kamera mirrorless yang dirancang untuk penggunaan sehari-hari. Canon EOS M10 dengan sistem pencitraan apt dengan sensor 18.0MP APS-C CMOS dan prosesor DIGIC 6 Image. Canon EOS M10 mampu menghasilkan gambar dengan citra yang bersih, baik rinci dalam berbagai kondisi pencahayaan. Berbagai sensitivitas asli ISO 100-12.800 telah diupgrade ke ISO 25600 untuk pengambilan gambar di pengaturan cahaya rendah dan tingkat continuous shooting dari 4,6 fps sangat ideal untuk bekerja dengan subyek bergerak. Kamera Mirrorless ini juga sudah termasuk dengan lensa Canon EF-M 15-45mm f/3.5-6.3 IS STM dan lensa Canon EF-M 22mm f/2 STM.

Masih bingung dengan Produk ini?
   Apa kelebihan kamera Canon M10?
   Sensor 18MP, wifi, NFC, & touchscreen.
   Apakah layar touchscreen & bisa diputar?
   Layar touchscreen & bisa diputar buat selfie.
   Apakah bisa dipasang microphone external?
   Belum bisa, tidak ada port untuk memasang microphone external.
   Lensa Kamera Canon M10 bisa dilepas diganti gak?
   Iya, lensa bisa dilepas dari body kamera atau lensa bisa diganti dengan lensa canon ef-m mount.
   Apakah sudah termasuk lensa 15-45mm atau hanya body only?
   Iya, sudah termasuk lensa kit 15-45mm + lensa Canon EF-M 22mm f/2 STM.
   Berapa ukuran diameter filter buat lensa 15-45mm IS STM?
   49mm.
   Apakah arti IS STM pada lensa Canon?
   IS (Image Stabilization) bertugas untuk meredam efek akibat goyangan tangan, STM (Strapper motor) memiliki kemampuan menghilangkan kebisingan saat merekam video.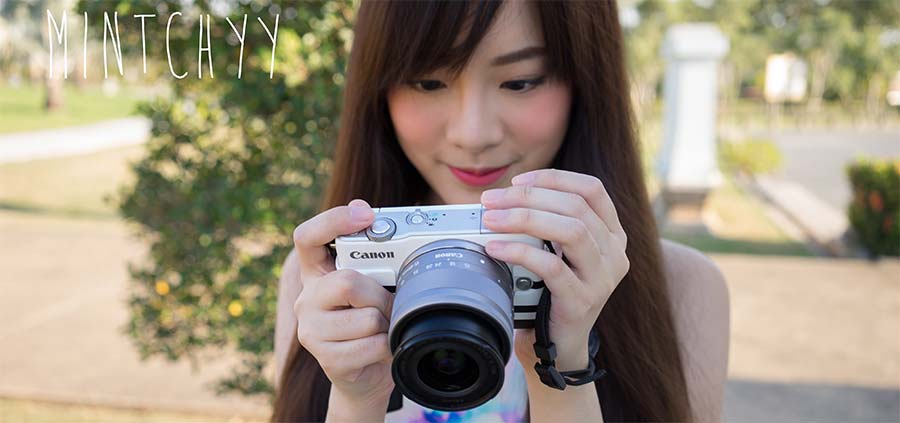 Fitur Utama Canon EOS M10
18.0MP APS-C CMOS Sensor
DIGIC 6 Image Processor
3.0″ 1.04m-Dot Tilting Touchscreen LCD
Full HD 1080p Video at 30/24 fps
Built-In Wi-Fi Connectivity NFC
Hybrid CMOS AF II, 49-Point System
Up to 4.6 fps and Expandable ISO 25600
Creative Assist and Self Portrait Mode
Lensa EF-M 15-45mm f/3.5-6.3 IS STM

Lensa Canon EF-M 22mm f/2 STM
Sensor dan prosesor Canon EOS M10 juga memungkinkan Anda untuk merekam video full HD 1080p serta CMOS AF II sistem fokus Hybrid yang sama cepat dan tepat. Melengkapi kemampuan imaging 3.0″ 1.04m dot LCD touchscreen yang memiliki desain 180° untuk komposisi selfie mudah dan bekerja dari berbagai sudut pengambilan gambar. Built-in Wi-Fi untuk share foto dan video, juga tersedia nirkabel untuk mentransfer foto dan video ke smartphone, tablet atau Connect Station CS100.
Di dalam paket Canon EOS M10 sudah termasuk lensa standar zoom EF-M 15-45mm f/3.5-6.3 IS STM, yang menyediakan 24-72mm setara berbagai focal length. STM membuat kinerja autofocus lebih tenang dan Optical Image Stabilizer mengkompensasi 3.5 stops-shake kamera untuk pengambilan gambar genggam yang lebih tajam. Desain optik lensa dari kamera Canon EOS M10 juga menggabungkan trio elemen aspherical untuk mengontrol penyimpangan berwarna sepanjang rentang zoom untuk lebih tajam dan kualitas gambar yang lebih jelas. Selain itu, anda juga mendapatkan tambahan lensa Canon EF-M 22mm f/2 STM.


Spesifikasi Lengkap Kamera Canon M10 Putih
Type
Digital single-lens non-reflex AF / AE camera
Recording Media
SD memory card, SDHC memory card, SDXC memory card
* Compatible with UHS-I
Image Sensor Size
Approx. 22.3 x 14.9mm
Compatible Lenses
(1) Canon EF-M lenses
(2) Canon EF lenses (including EF-S lenses) *

* With Mount Adapter EF-EOS M.
(35 mm-equivalent focal length is approx. 1.6 times the lens focal length)

Lens Mount
Canon EF-M mount
Image Sensor Canon EOS M10

Type
CMOS sensor
Effective Pixels
Approx. 18.0 megapixels
Aspect Ratio
3:2
Dust Removal Feature
Auto, Manual
Recording System
Recording Format
Design rule for Camera File System (DCF) 2.0
Image Type
JPEG, RAW (14-bit Canon original)
RAW + JPEG simultaneous recording possible
Recording Pixels
L (Large):
Approx. 17.9 megapixels (5184 x 3456)
M (Medium):
Approx. 12.40 megapixels (4320 x 2880)
S1 (Small 1):
Approx. 5.50 megapixels (2880 x 1920)
S2 (Small 2):
Approx. 3.50 megapixels (2304 x 1536)
S3 (Small 3):
Approx. 350,000 pixels (720 x 480)
RAW:
Approx. 17.9 megapixels (5184 x 3456)
Autofocus Canon EOS M10

Type
Hybrid CMOS AF II (1-point AF, Face + Tracking priority AF)
AF Points
49 points (Maximum)
Focusing Brightness Range
EV 1 – 18 (at room temperature, ISO 100, with EF-M 22mm f/2 STM)
AF Operation
One-Shot AF, Servo AF
AF-assist beam
Built-in (LED lamp)
Exposure Control
Metering Modes
Real-time metering with the image sensor.

Evaluative metering
Partial metering
Spot metering
Center-weighted average metering

Metering Range
EV 1 – 20 (at room temperature, ISO 100)
Exposure Control
Program AE (modes other than Tv, Av, and M), Shutter priority AE, Aperture priority AE, Manual exposure
ISO Speed (Recommended exposure index)
Manually set ISO 100 – 12800, ISO expansion to "H" (equivalent to ISO 25600)

Max. auto ISO speed can be configured when mode dial is set to P, Tv, Av, M, or Movie mode

Exposure Compensation
Manual: ±3 stops in 1/3-stop increments
AE lock
Auto, Manual
Shutter Canon EOS M10

Type
Electronically-controlled, focal-plane shutter
Shutter Speeds
1/4000 sec. to 30 sec. (Total shutter speed range; available range varies by shooting mode.), X-sync at 1/200 sec.
FE LOCK
Provided
Drive System
Drive Modes
Single shooting, continuous shooting
Self-timer Mode
Off, 2-second self-timer, 10-second self-timer, Custom timer
Continuous Shooting Speed
Max. approx. 4.6 shots/sec.
Max. Burst
JPEG:
Approx. 1000 shots
RAW:
Approx. 7 shots
RAW + JPEG Large / Fine
Approx. 4 shots
* Figures are based on Canon's testing standards (ISO 200 and "Standard" Picture Style) using a 16 GB UHS-I memory card, which complies with Canon testing standards.
Still Photo Shooting
Aspect Ratio Settings
3:2, 4:3, 16:9, 1:1
Focus Mode AF
AF, MF, AF+MF (MF, and MF in AF+MF mode: approx. 5x / 10x magnification and MF peaking supported)
Continuous AF
Provided
Touch Shutter
Provided
Grid Display
Two types
Depth-of-field Preview
Provided
Movie Shooting
Recording Format
MP4
Movie
MPEG-4 AVC/H.264
Variable (average) bit rate
Audio
MPEG-4 AAC-LC
Recording Size
and Frame Rate
1920 x 1080 (Full HD)
30p / 25p / 24p
1280 x 720 (HD)
60p / 50p
640 x 480 (SD)
30p / 25p
* 30p: 29.97 fps, 25p: 25.00 fps, 24p: 23.98 fps, 60p: 59.94 fps, 50p: 50.00 fps
File Size
1920×1080 (30p / 25p / 24p)
Approx. 172.6 MB/min.
1280×720 (60p / 50p)
Approx. 115.4 MB/min.
640×480 (30p / 25p)
Approx. 22.4 MB/min.
Focusing
Hybrid CMOS AF II system (1-point AF, Face + Tracking priority AF)
Focus Mode
AF, MF, AF+MF (Manual Focus after One-Shot AF)
(MF, and MF in AF+MF mode: MF peaking supported)
Metering Modes
Evaluative metering
Servo AF
Can be paused and resumed
Metering Range
EV 1 – 20 (at room temperate, ISO 100)
Exposure Control
Movie auto exposure mode, miniature effect movie mode, still image mode:
Shutter speed of 1/30 to 1/4000 sec.*, with aperture and ISO speed set automaticallyMovie manual exposure mode:
Shutter speed of 1/30 to 1/4000 sec.*, with aperture and ISO speed (auto or a specific value) set manually* The minimum shutter speed is limited to 1/30 sec. at 24/25/30 fps or 1/60 sec. at 50/60 fps
Exposure Compensation
±3 stops in 1/3-stop increments.
ISO Speed
(Recommended exposure index)
Automatically or manually set in a range of ISO 100 – 6400 (equivalent to 12800 when expanded)*
* Manual mode only
Miniature Effect Movie
Provided
Still Image Shooting
Provided
Sound Recording
Built-in stereo microphone, recording level adjustable, wind filter provided, attenuator provided
Grid Display
Two types
Power Supplies Canon EOS M10

Battery
Battery Pack LP-E12

* AC power can be supplied via AC Adapter Kit ACK-E12

Battery Life (Based on CIPA testing standards)
Approx. 255 shots at 23°C / 73°F, approx. 210 shots at 0°C / 32°F
Movie Shooting Time
Approx. 1 hr. 45 min. at 23°C / 73°F
Approx. 1 hr. 40 min. at 0°C / 32°F
(with a fully-charged Battery Pack LP-E12)
Dimensions and Weight Canon EOS M10

Dimensions (W x H x D)
Approx. 108 x 66.6 x 35.0mm / 4.25 x 2.62 x 1.38in.
Weight
Approx. 301g / 10.6 oz. (CIPA Guidelines : Body + Battery Pack + Card),
Approx. 265g / 9.35 oz. (Body only, excluding lens cap)
Battery Pack LP-E12
Type
Rechargeable lithium-ion battery
Rated Voltage
7.2 V DC
Battery Capacity
875 mAh
Working Temperature Range
During charging: 5°C – 40°C / 41°F – 104°F
During shooting: 0°C – 40°C / 32°F – 104°F
Working Humidity
85% or less
Battery Charger LC-E12
Compatible Battery
Battery Pack LP-E12
Recharging Time
Approx. 2 hours (at room temperature)
Rated Input
100 – 240 V AC (50 / 60 Hz)
Rated Output
8.4 V DC / 540 mA
Working Temperature Range
5°C – 40°C / 41°F – 104°F
Working Humidity
85% or less
Lensa Canon EF-M 15-45mm f/3.5-6.3 IS STM
Focal Length
15 – 45mm
Comparable 35mm Focal Length: 24 – 72 mm
Aperture
Maximum: f/3.5 – 6.3
Camera Mount Type
Canon EF-M
Format Compatibility
APS-C
Angle of View
84° 30′ – 33° 40′
Minimum Focus Distance
9.84″ (25 cm)
Optical Design
10 Elements in 9 Groups
Features
Image Stabilization
Yes
Autofocus
Yes
Physical
Filter Thread
Front: 49 mm
Dimensions (DxL)
Approx. 2.40 x 1.75″ (60.9 x 44.5 mm)
Weight
4.6 oz (130 g)
Lensa Canon EF-M 22mm f/2 STM
Focal Length
22mm
Comparable 35mm Equivalent on APS-C Format Focal Length: 35.2 mm
Aperture
Maximum: f/2
Minimum: f/22
Camera Mount Type
Canon EF-M
Format Compatibility
Canon (APS-C)
Angle of View
63° 30′
Minimum Focus Distance
5.91″ (15 cm)
Optical Design
7 Elements in 6 Groups
Diaphragm Blades
7
Physical
Filter Thread
Front: 43 mm
Dimensions (DxL)
Approx. 2.40 x 0.93″ (60.9 x 23.7 mm)
Weight
3.7 oz (105 g)
Bacaan Lanjutan Canon EOS M10:
Ulasan Video Canon EOS M10: